​We all love to play with the idea that we are creating our own reality, but how much of your own reality are you actually creating consciously? When it comes to the law of attraction and learning how to manifest your desires on purpose, there can be a period of learning and finding your own groove to fall into any time you want or need something in your everyday life. Remember, the things you choose to manifest don't have to be anything in particular, nor do they have to be something you see as "big" or "small;" your perceived "size" of the desire you have is only your opinion and may serve to hinder your progress rather than help it, simply because many of us might consider anything we've never asked for before to be "big," but asking for things we have never had is kind of the point, so you can see how finding and maintaining your emotional and energetic balance can be interesting to settle into.


What do you do that sets your soul on fire? Do you love something so much that time disappears and you sometimes can't remember where these creations even came from or how they almost magically appeared complete before you? If this is something you've experienced at any point in your life, look back on it. What were you doing that was so magical? How were you expressing yourself? These are some questions that can help you to determine what you're really passionate and excited about, although exploring different activities and interests can also help with that. If you already know what inspires you, what you're passionate about, then it's important to do that thing (or those things) on a regular basis to keep your system in the flow as much as possible. This is a practice of inspiration; of "following your bliss" to ultimately live a healthier, happier, and more fulfilling life. It doesn't matter whether anyone else likes what you're doing or not... this is all about you, only you, tapping into your inspired state of being and getting better and better at doing so. This allows you to become more focused and productive, and there are a few ideas I'd like to share with you about this topic. Read on for more... and to hear an original song by yours truly =).
Powered by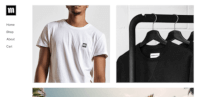 Create your own unique website with customizable templates.